A bike's suspension system is important for giving the rider a smooth, comfortable trip. For the forks and seat posts on mountain bikes (MTBs), the suspension can make all the difference: they isolate riders from the bumps on the heaviest trails, giving them control over difficult terrain.
One of the most common types of suspension uses elastomer. Elastomer is a rubbery material that absorbs the bumps and jolts of the road, and many bikes use stacks of small rubber bumpers for their suspension systems. How do these elastomer suspension systems keep you comfortable?
What Is Elastomer Suspension?
Elastomer suspension systems use rubber cushioning placed at the parts of the cycle that take a lot of the force. Elastomers have horizontal and vertical action to absorb unexpected shocks during the ride. On a seat post, for instance, an elastomer pillion compresses with the linkage to dampen bumps and hits while you ride. The hardness and flexibility of the rubber (also called its Shore hardness) are different based on the usage: softer elastomers have more give, while dense elastomers let rides take the most rugged of terrains. 
Most bikes that come with these suspension systems use medium elastomers, but you can find three different Shore hardnesses: 70 Shore A (black) / 80 Shore A (yellow) / 90 Shore A (red). Even with the changes in Shore hardness, not all elastomers are equal; many serious cyclists find the less expensive ones snap back and forth too easily. Luckily, elastomer suspension isn't only the rubber – riders can fine-tune good systems to perform how they'd like.
How Elastomer Suspension Works
Suspension can be a complicated topic, but to simplify it, compression, rebound, and sag are the three major aspects cyclists should consider.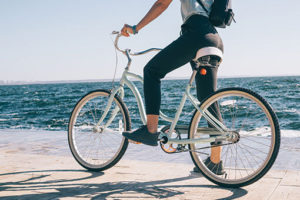 Compression

is how your suspension deals with bumps. Compression damping controls the feeling of it as the suspension compresses.

Rebound

is how the fork or shock returns to its original setting. Rebound damping controls how it recovers from an impact and returns to its full travel.

Sag

is how much the suspension compresses when you sit on the bike.
To keep elastomer suspension working and in great shape, it's important to take these three attributes seriously. Riders and cycle shops can fine-tune of compression, rebound, and sag to suit different body weights and riding styles. The Shore hardness can determine the ride level for your bike type, and many cycle manufacturers mix them to offer their customers the best of both worlds. 
Elastomer Suspension And Your Other Options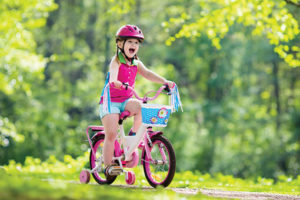 Simplicity is the benefit of most elastomer suspension systems, but there are some weaknesses associated with shocks made from this material. Many elastomers go hard in cold temperatures, and if they aren't high-quality, can suffer from a poor rebound performance, slow response, and uneven spring rates. Over time, the rubber can crack and lose its springiness. 
To combat these weaknesses, many cyclists like to refresh their elastomers with kits so that they stay in great shape. Others prefer different systems, like hybrid shocks that combine the advantages of elastomers and oil-damping or coil springs. However, to get the protection they need over serious trails, many MTB riders turn to steel or titanium coils or compressed air. These also reduce the weight of the bike, which is ideal for pedaling on tough, uphill terrain.