With all 2020 did to keep us indoors, there has never been a better time to get a bike for Christmas. We have a lot to make up for in 2021, and bikes help people of all ages see more of their surroundings! 
If you're looking to help your child achieve their New Year's resolution of getting more fresh air (which you may have resolved on their behalf), look at the following list of the best kids' bikes. A new ride at Christmas always makes the holidays extra special!
Choosing The Right Size
Before you buy a new bike and put it under the tree (wrap it well: it doesn't make for a very conspicuous gift!), you should know how to pick the right size: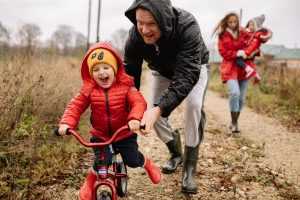 Preschool-aged children

can get the hang of things with a balance bike (see below).

For 4 to 6 years old,

choose a bike that has 14- to 16-inch wheels.

For ages 7 to 10,

choose a bike with 18- to 20-in wheels. It's the age range where you start seeing gears, suspensions, and other details that let them handle rough terrain.

For ages 10 to 13,

you start seeing what amounts to smaller adult-looking bikes. Usually, kids of this age range will fit nicely on a model with 24-inch wheels.
If you're unsure about sizing, talk to us – we'll get your child going with a model that fits them perfectly. It may just be one of these bikes, which are some of the best options for kids you'll find this holiday season!
From Ages 1 – 4: The Strider Balance Bike
You can find a Strider Balance bike that's perfect for children as young as 18 months and as old as four! A "balance bike" are simple models without pedals or gears; the child sits in the saddle and pushes themselves along with their feet. Strider's models have built-in footrests to help your child get the hang of gliding along, helping them build the confidence needed to upgrade as they grow!
The range of Strider Balance models is ideal for the rider who wants to ride an adult-looking bike. It features a seat post, saddle, and handlebars that you can adjust without tools to suit their height. A durable steel frame and puncture-proof tires should withstand the rough-and-tumble nature children handle their bikes.
For The Adventurous 4 – 6-year-old: Early Rider Trail Runner
This is the bike for that aspiring adventurer who wants to take the bike on rugged terrain. The large, grippy mountain bike tires are perfect for carving on those thrilling muddy slopes, rolling over roots or zooming across gravel. The Early Rider sports an innovative rubber band that you can connect to the fork, which will cause it to spring back straight. This feature helps keep your little racer from taking too sharp a turn and spilling off the seat!
For Riders Aged 6 – 10: Specialized Hotrock 20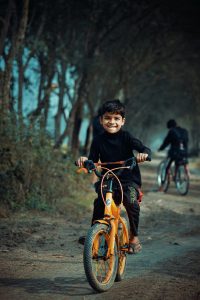 This is the bike your child is going to want to show off in spring. While it might seem pricey, it's an investment: this well-priced, impeccably designed bike has the gear range your kid will need to tackle every hill and trail in the neighbourhood and beyond. It has an aluminum frame and SR Suntour XCT-JR forks that have 50mm travel (a term used to describe the suspension), which is an excellent amount for gripping rough surfaces. This model will last them years and foster a love of riding that your child will carry well into adulthood.
For Riders Aged 10 – 13: Frog 69
The Frog 69 is a lightweight, 26-inch Hybrid bike made for your almost-teenager who wants to see and do more on their ride. The weight and Tektro brake system – which has easy-to-reach brake levers – give your child better control and maneuverability. The 8-Speed Shimano thumb-shifter gears also make adapting to new terrains and steeper hills an easy process. They also have mudguards and can have a rack attached to the frame for riding to school and extracurricular activities, or just to improve their weekend adventures!
Frog bikes have a lot of industry credibility for inspiring and improving confidence in young riders, and you may never see your child indoors in the new year!