The Forest City is well-known around the province for its cycling. Whether you're into rugged mountain trails or smooth urban paths, London has something for everyone! Here are the top five biking trails for all experience levels in the area.
Thames Valley Park Trail

The Thames Valley Park trail network in the downtown area contains some of the best bicycle paths anywhere in Ontario! The well-maintained routes head in three directions along the Thames riverbank, giving cyclists 22 kilometres of great paths. You'll find many smaller routes and loops in this network, so you don't have to commit to the entire 20+ kilometres. It's the perfect option for families, beginners, and comfortable recreation, as it has a variety of scenery by the water's edge and takes you through many beautiful parks.
Fanshawe Lake
Fanshawe Lake's fast-rolling, 24-kilometre track is a favourite of London cyclists. The trail loops around the lake and there are options at times for easy and more difficult sections (marked with a double black diamond). It's very easy to follow, too: keep with the blue and white markings on the trees and rocks. Make sure you're going in the correct direction – cyclists must ride clockwise on even-numbered days and counter-clockwise on odd.
Boler Mountain
This one is for more experienced mountain bikers who want a challenge! Boler Mountain's cross-country terrain traverses 120 acres of property, a single-track loop with aggressive climbs and technical sections that take you through London's famed Carolinian forest. This track has hosted local, provincial and national events like Ontario and Canada Cups, the Canada Summer Games, and Points and Citizens races. Depending on your skill level, there is a Beginners loop that takes you around the technical sections!
Dalewood
This path in the Dalewood Conservation Area near St. Thomas is ideal for intermediate-to-expert mountain cyclists. The roughly 6 kilometres of the trail takes you around the Dalewood Reservoir, and it gets very technical in areas, with roots dominating some sections of the trail. You'll get a great glimpse of nature in this more urbane setting as you tackle this trail! The best times to use it are between April and October.
Wildwood Conservation Area
Just outside St. Marys, Wildwood Conservation Area offers a very pleasant cross-country mountain bike ride that most riders can handle.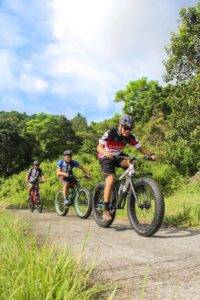 With a variety of terrain and scenery, it makes for a good outing for a weekend. At 25 kilometres, it may be a bit much for younger or less experienced cyclists, but apart from length, very little about the trail is prohibitive. Station posts mark the trail so you can't get lost. If you plan on taking this long loop, note that the trail is one way, much like Fanshawe – even days take cyclists clockwise, odd counterclockwise.
No matter where you go in the London area, please remember your trail etiquette: take only pictures, leave only tire tracks, and stay on the marked trails. Many of these paths are also favoured by dog walkers and hikers – remember to ring your bell to signal that you're coming up behind them!